FANTASIA 2000:
The Next Generation
"In the first of a two-part series, John Culhane looks at the making of Fantasia 2000 and focuses on three of its nine segments - the two returning pieces from the original film and one whale of a new one.
When Fantasia opening in 1940, Walt Disney saw it as a beginning, the first of a series of films marrying animation to great musical compositions. Here, he saw a golden opportunity to let music inspire our emotions. 'It would be,' said Walt, 'an unending voyage of discovery in the realms of color, sound, and motion.'
Disney's dream of an ongoing Fantasia, however, came to an abrupt stop when the original failed to make money on its first release. Now, nearly 60 years after its premiere, Roy E. Disney is convinced that Walt's original notion is an idea whose time has come. Fantasia will voyage on with the new Fantasia 2000, which makes its world debut at New York's Carnegie Hall on December 17.
From the first drawing to the last, Disney, the son of Roy O. Disney - Walt's brother and business partner who got the financing for the first Fantasia - has been the leading light of Fantasia 2000. As vice chairman of The Walt Disney Company and executive producer of Fantasia 2000, Disney started choosing music and facilitating the development of the seven new segments back in 1991. Crucial, too, was trip to New York City that year to ask James Levine if he would consider conducting for the firm a three-minute excerpt of Beethoven's Fifth Symphony.
'The right three minutes would be great,' replied the Maestro, grinning.
Maestro Levine, the artistic director of New York's Metropolitan Opera, will never forget seeing the original Fantasia as a boy. 'I thought that was such a memorable moment when Mickey shakes the hand of Leopold Stokowski,' says Levine. Since then, Levine has gone on to conduct more than 1,750 opera performances at the Met and to wield the baton at 14 showstopping performance by tenors Luciano Pavarotti, Jose Carreras, and Placido Domingo.
Even before Disney know that he had secured a star to conduct the best-loved opening in symphonic music, he signed on Supervising Director Hendel Butoy. Then came Producer Don Ernst. Gradually, Disney assembled a stellar team of artists, musicians, and technicians, pointing them all toward the same goal: a Fantasia 2000 that expresses humanity's hope for the new millennium.
Disney began handing out tapes of music to key artists, asking them what the music said to them. He soon had some of the best from The Walt Disney Company's new golden age of animation responding in ways as unique as their personalities. Four animators tried and failed to appeal to Disney and his associates with their visualizations of the Beethoven piece. Then Pixote Hunt, who had designed and laid out the panoramic opening of The Rescuers Down Under, saw Beethoven's da-da-da-dum opening as lightning and went on to draw a waterfall of light moving at an allegro con brio tempo.
Thus began work on a list of mini-features for the film. Eric Goldberg, who animated the Genie to Robin Williams' voice in Aladdin, was directing and animating 'Carnival of the Animals' by Camille Saint-Saens and 'Rhapsody in Blue' by George Cershwin. Francis Glebas, who put Sir Edward Elgar's 'Pomp and Circumstance' march together with the story of Noah's Ark, got Tim Allen, animator of Pumbaa, to animate Donald and Daisy. Co-directors Paul and Gaetan Brizzi, the brothers who created Esmeralda's song sequence in the cathedral in The Hunchback of Nortre Dame, wedded a volcanic eruption to Igor Stravinsky's 'The Firebird.' Butoy, co-director of The Rescuers Down Under, was directing and animating Ottorino Respighi's 'Pines of Rome' and Dmitry Shostakovich's Piano Concerto No. 2 is ways their composers never imagined: with whales instead of pines in the former; with Hans Christian Andersen's story of 'The Steadfast Tin Soldier' complementing the latter.
Fantasia 2000 became a labor of love for Roy E. Disney. 'One of the things Fantasia accomplished,' he says, 'was to move animation into a realm where it was accepted as an art form. I think every animator who's lived since then has, in some way, been influenced by it. I think part was the sweetness of the idea. Just put this beautiful visual experience along with a beautiful musical experience. It goes beyond with either thing.'
'In the original Fantasia, Walt provided the studio's artistic team with a showcase to explore new ideas and techniques.' says Dave Bossert, Fantasia 2000's artistic coordinator and head of special effects. 'Roy, by combining seven new segments with two classics from the original, allowed a new generation of artists to push the boundaries of the medium and our imaginations.'
The returning segments are 'The Sorcerer's Apprentice' by Paul Dukas and 'The Nutcracker Suite' by Piotr Ilich Tchiaikovsky, 'The Sorcerer's Apprentice' is, at its heart, a Mickey story about human nature: The central character "borrows" the Sorcerer's magic hat in order to enchant a broom into carrying water for him, but then he doesn't know how to stop it. Joe Grant, now 91, was co-story director (with Dick Huemer) of the original Fantasia and contributed the basic story concept for Fantasia 2000's 'Carnival of the Animals'. He believes the personality of Mickey Mouse was never better delineated than in 'Sorcerer's.' Here we see Mickey as Walt envisioned him. 'He's having a spectacular lot of fun without being malicious." said Walt.
'The Nutcracker Suite' is essentially a glorified Silly Symphony, one of the series of music-driven cartoons that preceded Fantasia. ''The Nutcracker' was beautiful,' says Grant. 'But most people remember best the (happy) mushroom dance that Art Babbitt animated. They identified with the little guy, with the personality of the smallest mushroom trying to get in step with the others.'
The Disney artists of Walt's day made their microcosms glow with luminous effects and translucent textures. The "Nutcracker' images of the milkweed ballet and the frost fairies involved not only animation but also extensive use of stipple, translucent inks, dry brush, and airbrush techniques.
That same kind of emphasis on beauty and detail went into Respighi's 'Pines of Rome', Fantasia 2000's story of a lost whale. Sorrowing as he see's his parents' shadows on the wall of the ice cave in which he is lot, the little humpback finds a light that lends him back to the pond. In their joy, the whales breach the water and ascend skyward on a mystical journey.
Unlike in Fantasia, much of the beauty here comes from computer graphics. 'The water gives us a sense of depth that you could not get with traditional, two-dimensional water,' says Butoy. 'We could move through space with a much greater sense of depth and dimension because of computer-generated water.
'In May 1999, Roy sent me copies of maybe three or four musical pieces to get my reactions,' Butoy recalls. 'Pines of Rome' caused a spark. I had some sort of sensation of flight going with this piece, as if it were trying to throw me up in the air, wanting to take me somewhere.'
When he first heard Levine conducting the passage in 'Pines' that, to Butoy, expresses the mystical journey, the supervising director was transported. 'Respighi calls for three trumpets to be played away from the rest of the orchestra,' explains Butoy. 'Levine decided to put those trumpets up in the first balcony of Chicago's Medinah Temple for our recording. And that's the moment where I saw the whales actually leave the water. Those trumpets are the signal for the entire pod to go on that journey.'
'I think we have to go back to Walt's concept - the marriage of the music and the images,' says Producer Ernst. 'It's not just what you see. It's what you hear at the same time that creates the emotion. The two elements working together give you a feeling of hope.'
And though Roy E. Disney never wavered in his conviction that Fantasia 2000 would make an important contribution to the art of animation, he made sure that he and his associates had fun creating it. 'If we aren't having fun,' he told Artistic Coordinator Bossert, laughing, 'how will our audiences react?'"
John Culhane became a journalist more than 40 years ago on the advice of Walt Disney. Culhane's seventh book, Fantasia 2000: Visions of Hope, will be published by Hyperion in December.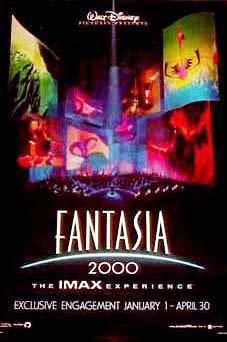 FANTASIA/2000 NEWS | FANTASIA/2000 PRODUCTION | FANTASIA/2000 CREW | FANTASIA/2000 MUSIC |
FANTASIA/2000 LINKS | SYMPHONY NO. 5 | THE PINES OF ROME | RHAPSODY IN BLUE | THE STEADFAST TIN SOLDIER |
CARNIVAL OF THE ANIMALS | THE SORCERER'S APPRENTICE | POMP AND CIRCUMSTANCE | THE FIREBIRD SUITE