Disney's Fantasia/2000 News
Fantasia 2000 Hits IMAX Record
HOLLYWOOD (Variety) - Disney's animated ``Fantasia 2000'' broke records at IMAX theaters in its worldwide opening bow over the New Year's holiday weekend. In North America, where the ``continuation'' of Walt Disney's 1940 classic bowed on 54 screens, the two-day haul was $2.2 million with a sizzling average of $41,481 per screen. The figure represents the best gross ever for an IMAX release and surpasses the highest weekly total for any previous IMAX picture, Disney said.
Grosses from the film's 21 international screens are expected to be released Tuesday, Disney said. ``Fantasia 2000'' is set to run exclusively at IMAX theaters through April 30, having already completed a 10-day ``World Premiere Tour'' with live concert performances. (From Yahoo.com News)
---
"James Levine and London's 120-piece Philharmonia Orchestra perform at Fantasia 2000's world premiere on December 17 at Carnegie Hall in New York City. Following Carnegie Hall performances on December 18 and 19, the Philharmonia will jet-set to accompany screenings at Royal Albert Hall in London (Dec. 21), Theatre des Champs-Elysees in Paris (Dec. 22), and Orchard Hall in Tokyo (Dec. 27). The orchestra, conducted by Derrick Inouye, performs at a New Year's Eve concert and screening at Pasadena Civic Auditorium (for information, call 818-238-1095). On January 1, Fantasia 2000 begins four months of engagements at IMAX theaters in advance of its general release in July." From Disney Magazine, Fall 1999.
---
"Fantasia 2000 to have gala premiere. If you can't make it, there will be a world tour, a run in IMAX theaters and a regular release. Tickets are available for Walt Disney's Fantasia 2000 gala at the Pasadena Civic Auditorium and Exhibition Hall in California on Dec. 31. Highlighting the evening will be the unveiling of the new animated feature Fantasia 2000, which will be accompanied by the 120-piece Philharmonic Orchestra of London. Fantasia 2000 includes seven new visual interpretations of classical pieces, as well as two returning favorites from the original 1940 release of Fantasia. It includes classical compositions form music masters such as Beethoven, Shostakovich, Resphighi, Saint-Saens, Elgar, Gershwin, and Stravinsky. The 2000-guest black-tie affair will begin a specially prepared feast, and then the gala festivities will start with the screening of Fantasia 2000. After the film screening, the party will feature live performances by Chicago and Big Bad Voodoo Daddy. Tickets for the event are $2,000 each. A portion of the ticket sales will benefit the California Institute of the Arts. For information or reservations, call (818) 238-1095. World Premiere: Before the New Year's Eve gala, the film will have its world premiere at Carnegie Hall in New York City on Dec. 17 and then begin a two-week world tour that will feature live symphony concerts and screenings in London, Paris, Tokyo and Los Angeles. Then on Jan. 1, Fantasia 2000 will make its giant-screen debut in IMAX theaters around the world, making it the first animated feature to be formatted and exhibited in IMAX theaters. The film will have a four-month engagement at IMAX theaters before it's released to other theaters." WDW's Eyes and Ears 9/2/99.
---
Where was Disney's Fantasia/2000 seen? (IMAX Theatres)
United States:
Tempe, AZ -- IMAX Theatre at Arizona Mills
Cathedral City, CA -- Desert IMAX Theatre
Fresno, CA -- Edwards IMAX Theatre at the Shops at Riverpark
Irvine, CA -- Edwards IMAX at the Irvine Spectrum
Ontario, CA (L.A.) -- Edwards IMAX Theatre at the Ontario Palace
Sacramento, CA - Esquire IMAX Theatre
San Francisco, CA -- Song IMAX Theatre at Metreon
San Jose, CA -- Hackworth IMAX Dome Theater at the Tech Museum of Innovation
Valencia, CA -- Edwards IMAX Theatre at the Valencia Town Center
Denver, CO -- United Artists Colorado Center IMAX Theatre
Miami, FL -- IMAX Theatre at Sunset Place
Orlando, FL -- Muvico IMAX Theatre at Pointe 21 Theatres
St. Augustine, FL -- World Golf Village IMAX Theater
Buford, GA (Atlanta) -- Mall of Georgia Regal IMAX Theatre
Honolulu, HI -- Consolidated's IMAX Theatre Wakiki
Boise, ID -- Edwards IMAX Theatre at the Boise Spectrum
Addison, IL -- Marcus Addison Cinema and IMAX Theatre
Chicago, IL -- Navy Pier IMAX Theatre
Lincolnshire, IL -- Lincolnshire Regal IMAX Theatre
Indianopolis, IN -- IMAX Theatre in White River State Park
Louisville, KY -- Louisville Science Center IMAX
Dearborn, MI -- Henry Ford Museum and Greenfield Village IMAX Theatre
Minneapolis, MN -- Imation IMAX Theatre at the Minnesota Zoo
Buffalo, NY -- Transite Center Regal IMAX Theatre
New Rochelle, NY -- New Roc City Regal IMAX Theatre
New York, NY -- Sony IMAX Theatre at Sony Theatres Lincoln Square
Nyack, NY -- IMAX Theatre at Palisades Center
Rochester, NY -- Cinemark IMAX Theatre at Tinseltown USA
Kansas City, MO -- Sprint IMAX Theatre at the Kansas City Zoo
Las Vegas, NV -- Luxur IMAX Theatre
Columbus, OH -- Marcus Crosswinds IMAX Theatre
Tulsa, OK - Cinemark IMAX Theatre at Cinemark's The Tulsa
Dallas, TX -- Cinemark IMAX Theatre at Cinemark 17
Dallas, TX -- The Science Place and TI Founders IMAX Theatre
Houston, TX -- Edwards IMAX Theatre at the Marq E. Entertainmetn Center
Lubbock, TX -- Science Spectrum - IMAX Dome Theatre
Richmond, VA -- Ethyl Corporation IMAX Dome at the Science Museum of Virginia
Seattle, WA -- Pacific Science Center's Boeing IMAX Theatre
Spokane, WA -- IMAX Theatre at Riverfront Park
Mexico:
Aguascalientrs C.P. -- Descubra Museo Interactino de Cien cia y Tecnologia Domo IMAX Theatre
Monterrey -- Planetario Alfa Domo (IMAX Theatre)
Mexico City C.P. -- Magupantalla IMAX Theatre
Zona Rio, Tiguana C.P. -- Cine Planetaria
Canada:
Calgary, Alberta -- IMAX Theatre at Eau Claire Market
Mississauga, Ontario -- Famous Players IMAX Theatres
Edmonton, Alberta -- Famous Players IMAX Theatres
Sudburg, Ontario -- The Science North IMAX Theatres
Langley, BC -- Famous Players IMAX Theatres
Toronto, Ontario -- Famous Players IMAX Theatres
Richmond, BC -- Famous Players IMAX Theatres
Toronto, Ontario -- Famous Players IMAX Theatres
Vancover, BC -- CN IMAX Theatre at Canada Place
Brossard, Quebec -- IMAX Les Ailes
Winnipeg, Manitoba -- IMAX Theatre at Portage Place
Montreal, Quebec -- Famous Players IMAX Theatres
Halifax, Nova Scotia -- Empire IMAX Theatres
London, Ontario -- Western Fair IMAX Theatres
Europe:
Brussels, Belgium -- IMAX Theatre Kinepolis
Oslo, Norway -- Panosonic IMAX Theater Oslo
Paris, France -- Dome IMAX Paris La Defense
Valencia, Spain -- L'Hemisferic IMAX Theatre
Speyer, Germany -- IMAX Filmtheater Speyer
Lucerne, Switzerland -- IMAX Theater
Rotterdam, Holland -- IMAX Rotterdam Theater
London, U.K. -- BFI London IMAX
Dublin, Ireland -- Sheridan IMAX Theatre
London, U.K. -- Pepsi London IMAX Theatre
Hong Kong:
Hong Kong -- Space Mountain Space Theater
Japan:
Nagano -- Ken, Hodaka IMAX Theatre
Sapporo -- Paramount Universal Cinemasa 11 IMAX
Osaka -- Suntory IMAX
Tokyo -- Tokyo IMAX Theatre
Thailand:
Bangkok -- Krung Thai IMAX Theater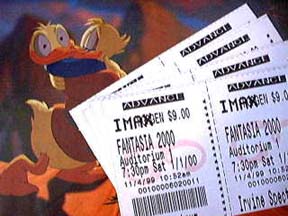 ---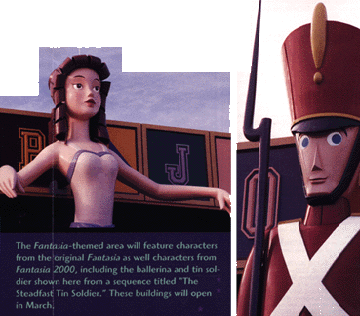 Themed-resort at Disney's All-Star Movies Resort at Walt Disney World.
FANTASIA/2000 NEWS | FANTASIA/2000 PRODUCTION | FANTASIA/2000 CREW | FANTASIA/2000 MUSIC |
FANTASIA/2000 LINKS | SYMPHONY NO. 5 | THE PINES OF ROME | RHAPSODY IN BLUE | THE STEADFAST TIN SOLDIER |
CARNIVAL OF THE ANIMALS | THE SORCERER'S APPRENTICE | POMP AND CIRCUMSTANCE | THE FIREBIRD SUITE