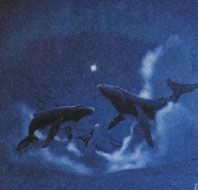 "The Pines of Rome"

Composed by Ottorino Respighi
Animation Director: Hendel Butory
Art Director: Dean Gordon
"The Pines of Rome", a CGI (Computer Generated Image) segment about a pod of whales that take flight when a supernova explodes above their iceberg home.
"...Respighi's 'Pines of Rome', Fantasia 2000's story of a lost whale. Sorrowing as he see's his parents' shadows on the wall of the ice cave in which he is lot, the little humpback finds a light that lends him back to the pond. In their joy, the whales breach the water and ascend skyward on a mystical journey. Unlike in Fantasia, much of the beauty here comes from computer graphics. 'The water gives us a sense of depth that you could not get with traditional, two-dimensional water,' says Butoy. 'We could move through space with a much greater sense of depth and dimension because of computer-generated water." From "Fantasia 2000: The Next Generation", Disney Magazine, Fall 1999.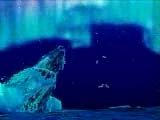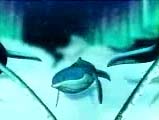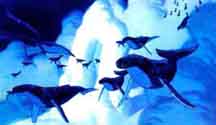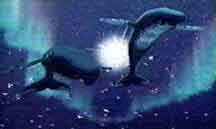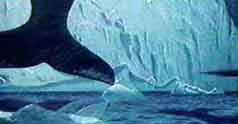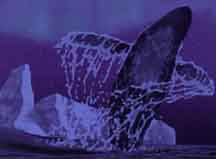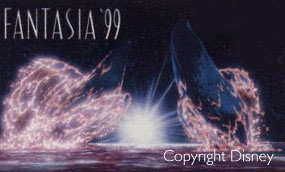 FANTASIA/2000 NEWS
| FANTASIA/2000 PRODUCTION | FANTASIA/2000 CREW | FANTASIA/2000 MUSIC |
FANTASIA/2000 LINKS | SYMPHONY NO. 5 | THE PINES OF ROME | RHAPSODY IN BLUE | THE STEADFAST TIN SOLDIER |
CARNIVAL OF THE ANIMALS | THE SORCERER'S APPRENTICE | POMP AND CIRCUMSTANCE | THE FIREBIRD SUITE