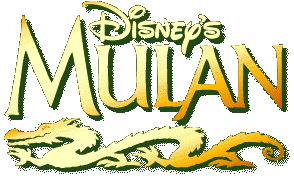 ©

The Emperor | Yao | Ling | Chien Po | Shan-Yu | Fa Zhou | Fa Li | Grandmother Fa
The Characters (Page 1) | The Characters (Page 3)
The Emperor
Voice By Pat Morita
Animated By T. Dan Hofstedt
The Emperor of China, saved by Mulan.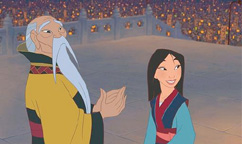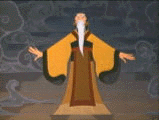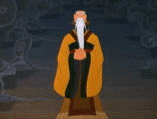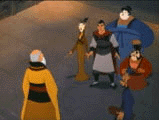 Back To The Top
Yao
Voice By Harvey Fierstein
Animated By Aaron Blaise
Hot-headed. Willing to get in a fight if need be.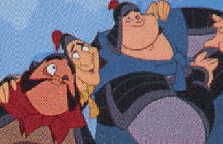 Back To The Top
Ling
Voice By Gedde Watanabe
Singing Voice By Matthew Wilder
Animated By Broose Johnson
Seems to be a ladies' man. Well, he thinks so.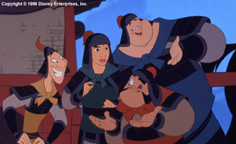 Back To The Top
Chien Po
Voice By Jerry Tondo
Animated By Broose Johnson
Calm and peaceful.
Uses his size and strength to help his comrades.

Back To The Top
Shan-Yu
Voice By Miguel Ferrer
Animated By Pres Rumanillos
The Villian of the movie, enough said!
Leader of The Huns' Army
"What do you see?"
"How many men does it take to deliver a message?"
"The soldier from the mountains."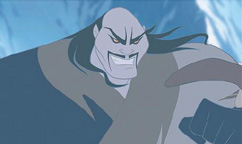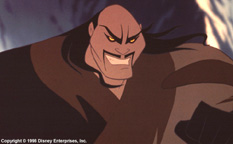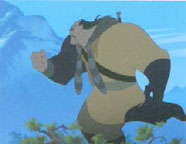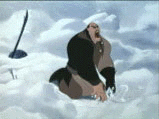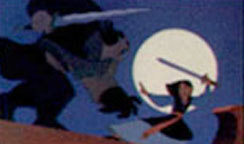 Back To The Top
Fa Zhou
Voice By Soon Tek Oh
Animated By Mark Henn
Mulan's Father. Wounded during his years in The Emperor's Army.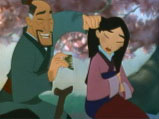 Back To The Top
Fa Li
Voice By Freda Fo Shen
Animated By Joe Haidar
Mulan's Mother. The traditional wife and mother.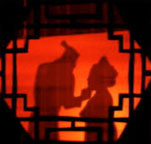 Back To The Top
Grandmother Fa
Voice By June Forey
Singing Voice By Marni Nixon
Animated By Jeff Varab
Mulan's Grandmother and Fa Zhou's mother.
Spreads humor and wisdom she has learned during her years.

Back To The Top