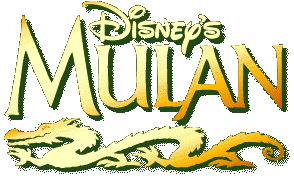 ©


Voice By Ming-Na Wen
Singing Voice By Lea Salonga
Animated by Mark Henn
Mulan wants her parents to be proud of her, but she feels she will never receive that. Her father is called to war and becomes to sick to go. Mulan takes his armor, cuts her hair, dresses like a soldier and takes the place of her father. Her Ancestors send her a magical dragon named Mushu to assist her in the war.

Back To The Top
Ping
Voice By Ming-Na Wen
Singing Voice By Lea Salonga
Animated by Mark Henn
The name Mushu suggests to Mulan to go by when Captain Li Shang asks for her (his) name.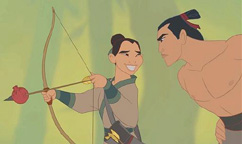 Back To The Top

Voice By Eddie Murphy
Animated By Tom Bancroft
The magical dragon who assists Mulan during her time in training and
in battle. He also wants to earn back the respect of the Fa family's Ancestors.
Mushu is also the comic relief during the film.
"You da man, well...sort of."
"Dishonor. Dishonor on you, dishonor on your cow..."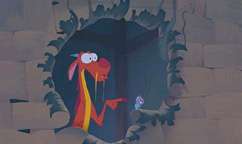 Back To The Top

Voice By B. D. Wong
Singing Voice By Donny Osmond
Animated By Ruben A. Aquino
Captain of the Emperor's Imperial Army that Mulan joins disguised as a man.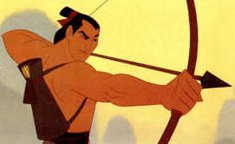 Back To The Top
(Cricket friend to Mulan)
Animated By Barry Temple
A cricket and an amulet of good luck of Mulan's grandmother.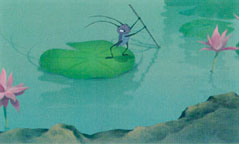 Back To The Top

Animated By Shawn Keller and Byron Howard
Mulan's pet dog. Helps with the chores.
Not to bright, but means well.


Back To The Top
Voice By Frank Welker
Animated By Alex Kupershmidt
Mulan's horse.
Always by Mulan's side, when she need him.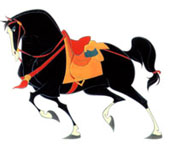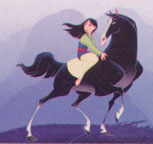 Back To The Top