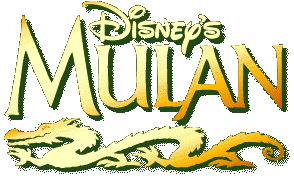 ©


Ming-Na Wen
(Fa Mulan, spoken voice)
12 Bucks (1998), Street Fighter (1994),
The Joy Luck Club (1993) "ER"-TV Series (1994)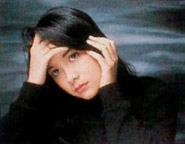 Lea Salonga
(Fa Mulan, singing voice)
Broadway Career: Miss Saigon, Les Miserables
Singing voice of Jasmine in Disney's "Aladdin" (1992)
Has recorded many solo albums, soundtracks, and cast recordings.

Eddie Murphy
(Mushu)
"The PJs" - Animated TV Series (1999), Life (1999), Holy Man (1998),
Doctor Dolittle (1998), Metro (1997), Beverly Hills Copy Trilogy,
Boomerang (1992), Harlem Nights (1989), Coming to America (1988),
RAW (1987), The Golden Child (1986), Trading Places (1983),
48 HRS (1982), "Saturday Night Live" - TV Series (early 80's)
Eddie Murphy Web Sites:
Site #1

B.D. Wong
(Captain Li Shang, spoken voice)
Seven Years in Tibet (1997), Joe's Apartment (1996),
Executive Decision (1996), Father of the Bride Part II (1995),
Jurassic Park (1993), Father of the Bride (1991),
The Karate Kid Part II (1986)

Donny Osmond
(Captain Li Shang, singing voice)
Best known for being one of the youngest members of The Osmonds
music group in the sixties/seventies, part of the Donny and Marie duo during
the late seventies, and now host (along with his sister) of the current
Donny and Marie Talk Show.

Pat Morita
(The Emperor)
The Karate Kid Trilogy, Spy Hard (1996),
Even Cowgirls Gets The Blues (1993), Savannah Smiles (1982),
"Happy Days" - TV Series (1974)

Miguel Ferrer
(Shan Yu)
Mr. Magoo (1997), Night Flier (1997), "The Stand" - TV Mini-series (1994),
Blank Check (1994), Point of No Return (1993), Hot Shots Part Deux (1993),
RoboCop (1987), Star Trek III -The Search for Spock (1984)

George Takei
(The First Ancestor)
Best know as Sulu on the original "Star Trek" Series
and many of the "Star Trek" feature films. He has also provided
many character voices in TV Series such as "The Simpsons",
"Batman Beyond" and "Spider Man".

Harvey Fierstein
(Yao)
Kull the Conqueror (1997), Independence Day (1996),
Elmo Saves Christmas (1996), Mrs. Doubtfire (1993),
Torch Song Trilogy (1998), Garbo Talks (1984)
Harvey Fierstein Web Sites:
Site 1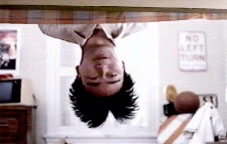 Gedde Watanabe
(Ling, spoken voice)
EdTV (1999), That Thing You Do! (1996), Boys On The Side (1995),
UHF (1989), Gung Ho (1986), Sixteen Candles (1984)

Matthew Wilder
(Ling, singing voice)
Wrote the Music for Disney's Mulan

June Foray
(Grandmother Fa, spoken voice)
Space Jam (1996), Thumbelina (1994), DuckTales: The Movie (1990),
Who Framed Roger Rabbit (1988), "George of The Jungle" - TV Series (1967),
"Adventures of Bullwinkle & Rocky" - TV Series (1961),
Disney's Peter Pan (1953), Disney's Cinderella (1950)
June Foray Web Sites:
Site 1
Marni Nixon
(Grandmother Fa, singing voice)
The Sound of Music (1965), My Fair Lady - (uncredited singing voices) (1964)
West Side Story (1961), An Affair To Remember (1957), The King and I (1956)
Soon-Teck Oh
(Fa Zhou, Mulan's Father)
Beverly Hills Ninja (1997), S.F.W. (1994),
Missing In Action 2: The Beginning (1985), Good Guys Wear Black (1979)
Freda Foh Shen
(Fa Li, Mulan's Mother)
The Glimmer Man (1996), Daddy's Girl (1996),
Basic Instinct (1997), The Dream Team (1989)
James Hong
(Chi Fu)
Red Corner (1997), Operation Dumbo Drop (1995),
Tank Girl (1995), Wayne's World 2 (1993),
Tango & Cash (1985), Blade Runner (1982), Airplane! (1980)
James Shigeta
(General Li)
Space Marines (1996), Cage II, Die Hard (1988)

Jerry Tondo
(Chien Po)
Nick of Time (1995), Drop Zone (1994),
It's Pat (1994), Gung Ho (1986)
Miriam Margoyles
(The Matchmaker)
Babe: Pig in the City (voice) (1998), Romeo + Juliet (1996),
James & The Giant Peach (voice) (1996), Balto (voice) (1995),
Babe (voice) (1995), The Age of Innocence (1993),
Dead Again (1991), The Butcher's Wife (1991)
Beth Fowler
(Matchmaker's Helper)
Frank Welker
(Khan)
Mary Key Bergman
(Female Ancestor)