(a.k.a. Sweating Bullets)
Release Date: April 2, 2004
Directors: Will Finn ("The Road to El Dorado") and John Sanford.
Animators: Mark Henn (the supervising animator for Belle, Jasmine, and Mulan to name a few) is currently working on the human villian, Slim.
Voice Talents: Cuba Gooding Jr. voices a horse named Jake who joins the cows in their quest to save the farm.
Sarah Jessica Parker voices the farmer woman Randy Quaid voices Slim, the villain.
Other voices include Judi Dench. Roseanne, and Ja'Net DuBois.
Plot: The farm, which is owned by a widow woman with a young daughter, can't make the mortgage payments and is faced with eviction. Since the cows don't want to be evicted, they decide that they must find a way to raise the $1,000-or-so in back payments. So the cows, led by Dame Judi Dench, try to figure out how to earn that money. Then, the family horse, played by Cuba Gooding, Jr., who used to have belong to a bounty hunter, knows a great way to save the farm. The horse had heard that in the nearby town that there's a bandit named Slim that is wanted which has a $1000.00 bounty for his capture. So, the film then follows the escapades that ensue, with Jake the Horse, helping the cows catch Slim.
Animated cowboys. This is the project that has been keeping Mike Gabriel and Mike Giamo busy since "Pocahontas". It has been in development since Pocahontas ended, but it's STILL pretty early in development. The characters apparently look very strange. The cowboys will not drink, smoke, cuss, or carry guns. Sweatin' Bullets has animated cowboys. Early development of these cowboys have been said to look really cool. With Spirit (which is the name of the horse in the lead) on fast track and Disney secretly moving FAST ahead with Sweatin' Bullets, another anime set in the Old West this time with cowboys and guns, to be co-directed by "Pocahontas'" Mike Gabriel.
"...Their next project coming down the pipe is a western called "Sweating Bullets." I didn't see much from this, just some rough pencil sketches and storyboard frames. I understand Bullets is the name of a young bull, and most of the characters are cattle and other animals you'd find on a ranch. Maybe these things didn't stand out to me because I had just seen an eye-full of groundbreaking development art from the other two films, (or maybe it's because I just don't care for westerns much) but.... Hrrrmm, I felt it was rather flat and uninteresting."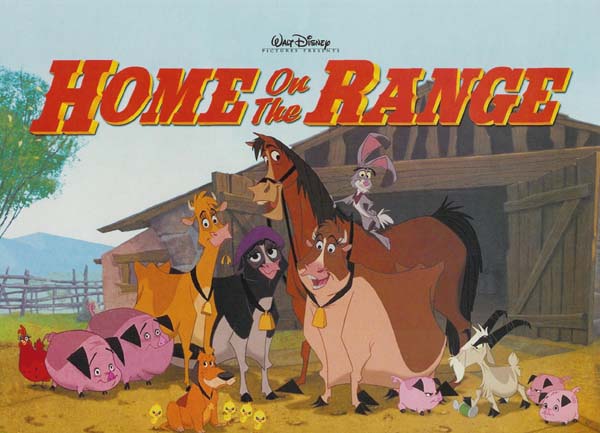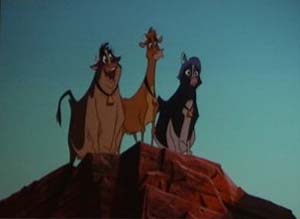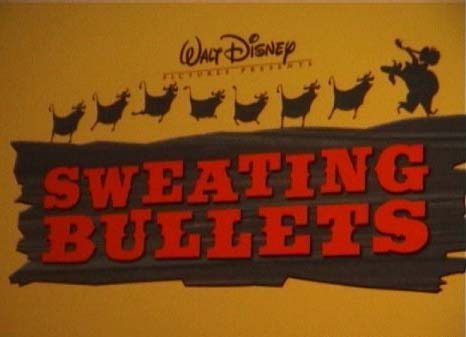 The Walt Disney Feature Animation FanSite Main Page