SPIN-OFFS

"Peter Pan 2: Return to NeverLand":
Theater Film Sequel. February 15, 2002.
Directed by Robin Budd
"What I have found out so far is that the plot is kind of like the plot of Spielberg's "Hook", in which Captian Hook kidnaps Wendy's daughter, who is a bit of a rebel. After being rescued by Peter Pan, Wendy's daughter is taken by Pan to live with the Lost Boys and him. Because of her rebel spirit she doesn't like the idea very much. While there she sees the world as a place with too many problems. Also heard is that there isn't going to be any alligators in it, but instead a giant squid."
"The sequel to Peter Pan animated here in Sydney at Walt Disney Animation Australia. Coming Easter 2002 in Australia and March 2002 in the USA. The sequence we saw was a trailer and opened with Captain Hook kidnapping Wendy's niece Jane and we see them head to Never Land. Jane is 12 years old and doesn't believe Aunt Wendy's stories about Peter Pan and Neverland. Songs in the movie by Jonathan Brrok. Jane in Neverland wonders how she can ever get home. We are re-introduced to all the characters from the original
and with a sprinkle of Pixie Dust the adventure begins."
Rumor Voice Cast: Ben Savage as Peter Pan; Harriet Owen, Kath Soucie, Corey Burton, Jeff Bennett, and Lawrence Watson.
Cartoon humans that are going to be in the movie: Peter Pan, Tinkelbell, Captain Hook, Smee, Jane, Young Wendy, Adult Wendy, Timmy, and the Lost Boys (who will be somewhat older than in the first film). Also, Mr. and Mrs. Darling will not be in this film. Tick-tock the Croc will return and also Nana, the dog, might go to NeverLand too. Also Wendy's brothers will be in the movie too. Wendy and John will be adults and Michael will be 13.
Windows Media Trailer: Click Here. Official Website: Click Here.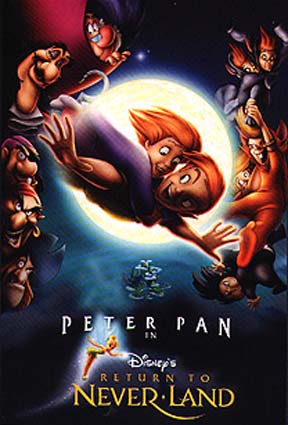 "The Peter Pan Story":
a 12 minute promotional film for Peter Pan released in 1952.
"Peter Pan's Flight":
a Fantasyland attraction at Disneyland, opened on July 17, 1955 and redesigned in 1983. Fantasyland attraction in the Magic Kingdom at Walt Disney World, opened on October 3, 1971; Tokyo Disneyland, opened April 15, 1983; and also Fantasyland at Disneyland Paris, opened April 12, 1992.
"Captain Hook's Galley":
Fantasyland fast-food restaurant at Disneyland, from 1969 to August 29, 1982. Also a restaurant in Fantasyland at Tokyo Disneyland, opened April 15, 1983, and in Adventureland at Disneyland Paris, opened April 12, 1992.