SPIN-OFFS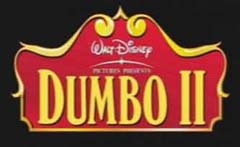 "Dumbo II":
Direct to Home Video and Disney DVD Sequel.
Now In Production.
Characters:
Dumbo, Timothy; Claude & Lolly (Twin Circus Bears):
Dot (Zebra); Godfry (Hippo); Penny (Ostrich)
Crew:
Director - Robert Ramirez; Producer - Jeannine Roussel;
Head of Story - Burny Mattinson
"Dumbo: A Lesson in Being Prepared":
educational film, released in September 1981.
"Dumbo Flying Elephants": Fantasyland attraction at Disneyland, opened August 16, 1955, remodeled in 1990. Fantasyland attaction in the Magic Kingdom at Walt Disney World, opened October 1, 1971, remodeled in 1993. A Tokyo Disneyland attraction opened April 15, 1983, and in Fantasyland at Disneyland Paris opened April 12, 1992.
"Dumbo's Circus": television series on
The Disney Channel. Premiered on May 6, 1985.
"Dumbo's Circus Parade": parade ran in the Magic Kingdom at Walt Disney World from January 2 to December 21, 1979.