Enchanted (200?)
A Mix of live action with animation
Director: Jon Turteltaub
Produced by: Barry Sonnenfeld, Barry Josephson, Jon Turteltaub (Through Junction Entertainment), Christina Steinberg (Through Junction Entertainment)
Music: Alan Menken, who won several Academy Awards for music on Disney's "Beauty and the Beast," "Pocahontas," "Aladdin" and "The Little Mermaid," is composing the music for "Enchanted".
Voice Talent: As of April 11, 2001 - Susan Sarandon is in negotiations to star in the Walt Disney Co.'s live-action/animated feature "Enchanted" David Hyde Pierce ("Frasier") also is in talks to co-star in "Enchanted". David Hyde Pierce will be the voice of Nathaniel, the queen's valet. The movie will start in an animated fairy tale kingdom. There, a peasant girl fall sin love with a prince. Unfortunately, an evil queen (Sarandon) decides to nip this romance in the bud and sends the girl out of the kingdom and into the real world of New York City. Not long afterward, the girl, who is real herself now, falls for a man there, just as the prince (who is in love with her) and the queen come to the real world looking for her and must decide whether to return home.
---
Fantasia 2006 (2006)
"Fantasia 2006 it is a go. One sequence is already completed and another one in the early stages of production, directed by Glen Keane. The music will be from different parts of the world. Roy Disney, during a chat session during the release of "Fanatsia 2000", said that they were currently working on a segment set to music that was originally written for the musical version of "The Lion King" The segment has no lyrics but it could contain some singing by lebo m, or something similar to that. The story revolves around a group of black children in an African township. They find a kite and start to play with it. It is suggested that they start daydreaming about it too. Most likely this is the
completed sequence."
---
Wild Animals
A 3-D animal feature.
---
The Big Break
(NEW YORK) - Walt Disney Pictures has rattled cages for Mark Gibson and Phil Halprin's pitch "The Big Break," an animated project described as an animal version of "The Great Escape" set in the Bronx Zoo. Disney made a pre-emptive outright purchase of the project, which sources said may combine use of claymation and computer graphic animation. (The Hollywood Reporter)
---
Wild Life
This film has been canceled.
Wild Life is a fabulous tale of Manhattan nightlife, fashion, drugs, and fame. An elephant is to be made a big star by a bunch of simpering warholian freaks. The characters are badly drawn 2D nonsense that are going to be done in CGI.
---
The Frog Prince
Eric and Susan Goldberg are working on a creating a parody of the Disney formula with their take on the classic story "Frog Prince". There isn't a lot of artwork seen so far, but the buzz on this project is very very positive.
---
Don Quixote (2005)
Don Quixote was once in production a couple times before and once again is back in production. From the latest drawings done by the Brizzi Brothers, so far they are a dark, spooky tone to them. They show a gangly but obviously youthful Don Quixote, his burly and dim sidekick Sancho Panza, and some other younger looking dude who completes a trio of adventurers. There seems to be enough artwork for about 4 movies. I hear that the Brizzi Brothers work faster and more intensely than anyone else in story. Somehow they pack enough information in those regular sized little story sketches to show what the whole movie could look like if not given the normal Disney Animation treatment.
The Brizzi Brothers (who directed the Firebird sequence in Fantasia 2000 and who are also responsible for the opening sequences in The Hunchback of Notre Dame and Tarzan) started working on this project in the late '90s. Supposedly the tone of their drawings was so dark and spooky that the project was cancelled by Disney in September 2000. Nevertheless, in a November 2000 to Anime Magazine, Paul and Gaëtan Brizzi said that they were still working on the film and that the project would surely be greenlighted soon. So there's still a little hope, even though the Brizzis supposedly resigned from Disney after the salary cuts of April 2001...
As a sidenote, Disney has tried to make a movie based on Don Quixote for decades but could never find the right approach.
Information from Aint-It-Cool-News. (October 30, 2001)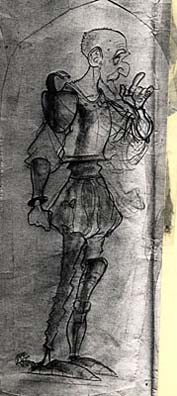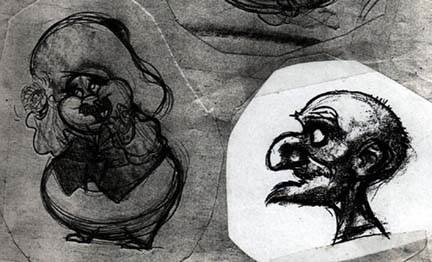 ---
Aida (2004)
This film has been canceled.
---
Billy the Kid (2005)
---
Eagle Trouble (2006)
---
Rapunzel (2007)
Animator: Glen Keane
---
The Snow Queen (2008)
---
Chicken Little (2009)
---
Silly Stories (2010)
---
Puss in Boats (2011)
---
The Search for Mickey 50th Classic (2010 or 2012)
---
Expedition
---
Silkies
---
The Lady of the Lake
---
Rescuers 3
---
Oliver and Company 2
---
The Walt Disney Feature Animation FanSite Main Page