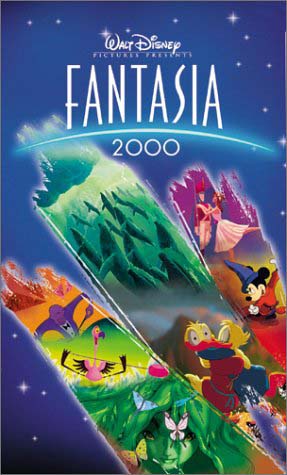 On Home Video and DVD
Release Date: November 14, 2000
The "Fantasia/2000" DVD will include the following extras:
A digital-to-digital transfer
A commentary by Roy E. Disney (executive producer), maestro James Levine and Don Ernst (producer)
A commentary by the directors and art directors for each film segment
"The Making of 'Fantasia 2000'" featurette
Disney's 1953 Academy Award-winning animated short, "Toot, Whistle, Plunk and Boom," which provides a humorous look at the history of music
The animated short "Melody"
A commemorative booklet, highlighting the art, music and filmmaking technology brought together for the film
A showcase sampler, offering highlights from each segment of the film
The original theatrical trailer
Widescreen anamorphic format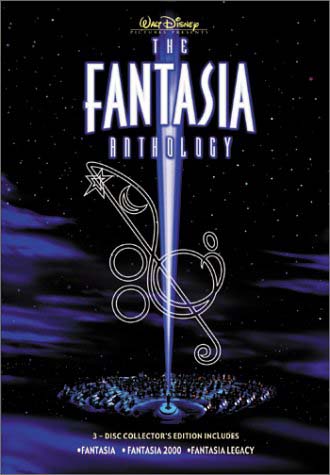 FANTASIA ANTHOLOGY: This 3 Disc set includes "Fantasia" and "Fantasia/2000" and a third disc of supplemental material. Disc One: "Fantasia" -- The Classic Disney Concert event. Disc Two: "Fantasia/2000" brings Walt Disney's dream of creating a concert film with perpetually changing repertoire. Sixty years after the release of Disney's classic 1940 experiment in sight and sound, a new generation of Disney animators and filmmakers offer an exciting showcase for today's audience as they visually interpret classical compositions by Beethoven, Shostakovich, Respighi, Gershwin, Dukas, Saint-Saens, Elgar and Stravinsky. This animated extravaganza features seven new selections and one returning favorite from the original classic. World renowned conductor James Levine takes up the baton and leads the Chicago Symphony Orchestra. Like its pioneering predecessor, "Fantasia/2000" embraces all the latest technological tools and innovations to tell its stories and create breathtaking imagery. Disc Three: In depth exploration of each animation segment. Special effects segment/ Still frame gallery / Section containing reconstructed segments deleted from the film including "Clarie de Lune" and "Ride of the Valkries"/ Still frame art from "Flight of the Bumble Bee," "Mosquito" and "Baby Ballet"/ Pencil tests of unused animation / cast and crew Biographies. Release date was November 14, 2000. Suggested retail value: $60.00, order now for only $49.99 at Amazon.com.
The Official List of Extra Material included with the "Fantasia Anthology".
Storyboards, concept art and character designs
"The Fantasia That Never Was" featurette
Animation and story reels for unproduced segments, presented with the original music "Claire de Lune," "The Ride of the Valkyries," "The Swan of Tuonela," "Adventures in a Perambulator," "Invitation to the Dance"
Still frame art: "The Flight of the Bumblebee," "Mosquito" and "Baby Ballet"
Isolated music tracks
Special effects showcase
Pencil tests of unused animation
Still frame galleries: "The Art of 'Fantasia'"
Trailers/posters of "Fantasia"
The historical context of each musical piece
Supplemental "Fantasia 2000" material: A behind-the-scenes look at each film segment
Interviews with filmmakers
Animation tests
Storyboards, concept art and character designs
Production progression demonstrations
Deleted animation
Alternate versions
Abandoned concepts
Trailers/posters of "Fantasia 2000"
The historical context of each musical piece
Behind-the-scenes featurette "Making of 'Fantasia 2000'"
On-camera introductions and set-ups by the "Fantasia 2000" filmmakers
Full-screen and widescreen anamorphic formats
---
From Disney Magazine Fall 2000 "A Day (or Two) in the Life of Don Hahn": "In a room lined with storyboards from "Fantasia/2000" (on which Hahn directed the host sequences) , Hahn, (Roy E.) Disney, and other principals discuss bonus footage that will be included in the DVD format. Like the producers' meeting this morning, the proceedings are hush-hush."