Walt Disney Feature Animation's 40th Feature-Animated Film
---

Premiered: Friday, June 15, 2001
Running Time: 93 Minutes
International Premiere Dates:
France - June 15, 2001
Argentina - July 5, 2001
Australia - September 2001
United Kingdom - October 19, 2001
The Netherlands - November 15, 2001
Belgium - November 28, 2001
Germany - December 6, 2001
---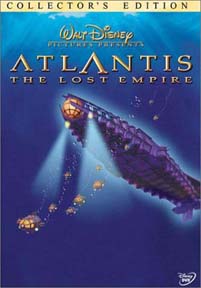 The two-disc Collector's Edition Disney DVD was released on January 29, 2002. Click Here to order your copy. Click Here to order your copy of the Standard Disney DVD. Click Here to order your copy of the Home Video.
Disc One: Feature Film; Deleted Scene: Viking Prologue; How To Speak Atlantean; DisneyPedia; Virtual Tour of CG Models - Ulysses and Leviathan; Visual Commentary - Producer Don Hahn and Directors Gary Trousdale and Kirk Wise Take Viewers Behind the Film During Key Scenes to Show How the Film Was Made.
Disc Two: Multiple Platform Navigation System (3-D Menus); Explore Mode: The Actual CG Model Of The Ulysses Submarine Used in Atlantis Is the Menu Navigation Environment; Tour Mode: A Two Hour "Submersive" DVD Experience; A Documentary That Navigates Itself; Files Mode: Lists All Features In Sequential Order; Allows The Viewer To Zip Through Navigation; Whitmore Industries Industrial Film; History; Story & Editorial; Art Direction; Character Designs; Music and Sound.
"Atlantis 2: The New Adventures" - Direct to Home Video/Disney DVD Sequel. In Pre-Production.
---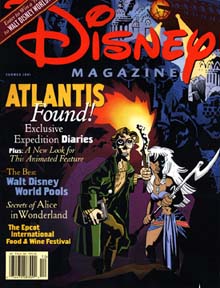 ---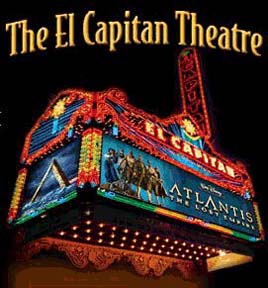 V.I. P. Premiere June 3, 2001
---
From THE ORLANDO SENTINEL ON-LINE, Friday, June 15, 2001
"The art of 'Atlantis' doesn't just imitate life, it goes it one better." by Roger Moore
"Before making Beauty and the Beast, the Disney creative team flew to France's Loire Valley and toured chateaus and drank wine for inspiration. For The Lion King, they went to Africa; for Mulan, China. And for The Emperor's New Groove, they went to South America and the land of the Incas. Atlantis: The Lost Empire sent them to the most exotic locale yet . . . the Army Ordnance Museum at the Aberdeen Proving Grounds in Maryland. "Well, the Bug's Life guys only got to go out back of Pixar, to the parking lot, for their research," producer Don Hahn said, laughing. "We wanted to get a feel for the hardware of the period we were setting the film in," director Kirk Wise said. So off to Aberdeen they went. The Ordnance Museum has 240 armored vehicles, dating back to World War I, which is roughly the era in which the new film is set. "We wanted to see what the gear that the explorers took with them on this expedition would look like," Wise said. "We crawled around all those vehicles to get a sense of what comprised their look. Big bolts, heavy metal plates bolted together. We invented all this retro-technology, but we wanted it to look like the product of that age." Submarines, trucks, motorized drills, all took their inspiration from Aberdeen. And for the vast underground world that the Atlantis explorers find? "Carlsbad Caverns, New Mexico," Hahn said. "You're crawling into these little spaces that suddenly turn into these huge rooms underground. The sense of scale you get from something like that is irreplaceable ." So is the bonding that makes this production team work. This is the same team of producer and directors (Wise and Gary Trousdale split those duties) that did Beauty and the Beast and The Hunchback of Notre Dame. The idea for Atlantis had its origins at a team lunch in L.A., involving Hahn, Wise, Trousdale and screenwriter Tab Murphy. "We were all just talking about movies that we enjoyed," Wise said. "We ended up going off on The Dirty Dozen, the Ray Harryhausen movies of the '50s [Jason and the Argonauts, Journey to the Center of the Earth] where groups of explorers would go out and find lost civilizations and huge monsters. We all had so much affection for those films, as much as we had for the Disney animated films of the same period. It was an irresistible temptation to do a movie like that, about explorers, professionals. They're going off to find a lost world, underground. What do they find? That hollow world exploration story led us straight to Atlantis." A story was hammered out involving an aspiring scientist who joins an expedition to find Atlantis in 1914. They decided against making the whole film an underwater thing "because Disney's done a mermaid, Charlie the Tuna movie," Hahn said. They came up with a theme, legacies: "Our lives are remembered by the gifts we leave our children." They decided against making a musical. And they decided to make the film a widescreen production, something Disney hasn't done in decades. "We tried to push ourselves out of our comfort zone," Hahn said. "As artists and filmmakers, we feel if we keep repeating ourselves we're going to creatively die. . . . This movie is terrifying to us, in a lot of ways. It's a wide-screen movie, which we had not done in the modern era. Let's make a nonmusical, an adventure film." They brought in Disney's character ace to create the film's hero, Milo Thatch. John Pomeroy, an animator who apprenticed under the studio's "Nine Old Men" back when feature film animation was nearly extinct, has become something of an Old Man of the studio himself. He started work on Winnie the Pooh and Tigger Too. He created Pocahontas. He left Disney to serve as a producer on several of the biggest non-Disney animated hits of the '80s, including An American Tail and All Dogs Go to Heaven. "Milo is bits of me, Kirk Wise, Don Hahn, Jimmy Stewart and Michael J. Fox," Pomeroy said. "I have to move him, put this persona on paper and make him live ... He's like any of us. At some point, we all have felt like we have possessed a certain brilliance that no one else will give us credit for." Pomeroy sat in on the recording sessions, watched old movies and kept pictures of Jimmy Stewart and Dick Van Dyke up around his work-table as he animated Milo. The animation was done at all three Disney animation facilities: Burbank, Paris and Orlando. The start-to-finish time was a year longer than Hunchback, partly because of efforts to make the film with a smaller crew of animators. The cost? "Quite a bit less than Tarzan" was all Hahn would say. As always, there's a lot riding on Disney's latest animated offering. Coming as the second major cartoon of the summer (after Shrek) and being non-musical and, despite many comic touches, considerably darker than usual Disney fare, Atlantis is a risk. "Will people want to see The Dirty Dozen goes on a Journey to the Center of the Earth?" Wise asked. "I hope so." "The moments I remember from the films of my youth are not just the happy ones but the scary ones, when the flying monkeys take off after Dorothy in The Wizard of Oz or when Snow White is being chased," Hahn said. "Those moments really balance the storytelling. Disney's best films do that. That's what we've tried for here."
---
From THE WALL STREET JOURNAL., Friday, June 8, 2001 W13
Review/Film by Joe Morgenstern
"Atlantis: The Lost Empire" qualifies as a pleasant time-killer, but it's 20,000 leagues beneath what it might have been. This Disney animation feature, a nonmusical that evokes Jules Verne, runs out of inspiration shortly after it begins. The year is 1914. A young historian named Milo, appealingly voiced by Michael J. Fox, becomes the leader of a submarine expedition to find the legendary continent beneath the sea. The journey takes Milo and a racially and ethnically diverse crew through many precincts dear to Saturday-morning TV; perilous waters guarded by mechanical Leviathan, a not-so-dormant volcano and then an Incan-Eqyptian-Pompelian kind of broken-down Shangri-La where the inexplicable sky is unaccountably blue, and where Princess Kida, a beautiful but chaste little babe with collagen lips, leads Milo and his cohorts to a giant blue crystal that provides inexhaustible energy. Sunken through Atlantis may be, the continent has been spared rolling blackouts."
---
From THE NEW YORK TIMES, Monday, May 21, 2001 C12
A section from the article "'Pearl Harbor' Signifies Disney's Cost War".
"And 'Atlantis' is unlike all the other recent Disney animated efforts. It is a pure action-adventure, for instance, and contains no songs or cute animal sidekicks.
Mr. (Peter) Schneider rejected recent criticisms that the company's animation division had lost its creative spark. He also predicted that, despite the naysayers, 'Atlantis' would do quite well with audiences. 'We have already said yes to an animated television series based on it,' he said.
Besides, Disney executives maintain that they have made it easier for their animated features to break even by a cost-cutting campaign that made 'Atlantis,' which cost $100 million, about 35 percent cheaper to produce than the studio's other recent animated efforts.
Making and releasing feature films is only part of what Walt Disney Studios does. There is also television animation, a stage-play and music business and a recently reinvigorated direct-to-video business that has had successes with low-cost sequels to Disney animated classics like the recent 'Lady and the Tramp II.' More than most studios, Disney has an enormous reservoir of time-tested classics that it can parcel out in DVD and other formats in coming years to keep the money flowing in.
'If you look at the last six months, out profit for all of these components of the studio was $300 million; that's up from zero the year before,' Mr. Schneider said. 'The goal we have is great artistic product and to make some money, I think you're seeing that, and I am bullish that it will continue to grow for the next six months.'"
---
From THE WALL STREET JOURNAL., Friday, May 4, 2001 W13
Entertaining Questions by Tom King
"Q. Which movie preview will be shown most in theaters this summer?
A. Probably the trailer for Disney's "Atlantis: The Lost Empire". Why? Because it is being screened before the studio's "Pearl Harbor," the odds-on favorite to be the summer's big hit. Trailer placement is a high stakes game in Hollywood, and never more so than this summer, when the schedule is full of big-budget pictures.
The horse-trading involved is complex. With each of its movie releases, a studio attaches one preview directly - "Atlantis" in the case of "Pearl Harbor" - and then sends along a handful of "loose" trailers, from which theater owners choose. These are a mix of the studio's movies and those from other companies, which they've swapped to get their trailers before likely ticket buyers (romantic comedies before romantic comedies, action adventures before action adventures, and so on).
But the animated "Atlantis" is PG-rated family fare, while "Pearl Harbor" is a PG-13 movie with some gory war scenes that push the limits of the rating. That isn't a problem, according to Dick Cook, chairman of Disney's motion-picture group. The "Atlantis" trailer is a special piece, and we think it'll work thematically with "Pearl Harbor", he says."
---

---

---

This website is NOT affiliated with The Walt Disney Company or Walt Disney Feature Animation. This website is meant for providing information and for entertainment purposes ONLY. All images of Walt Disney Feature Animation characters/scenes are copyright by the company. All original images are property of this website.

Site Created on May 15, 2001 Updated on May 19, 2003 Part of the Walt Disney Feature Animation FanSite