---

The Disney Institute (Walt Disney World, Orlando, Florida) will host its fourth Annual Animation Event from July 24-29. Throughout the five day event guests will learn from successful filmmakers who will share their real-life experiences and discuss the secrets to producing outstanding animation. This year's list of guest presenters includes Don Hahn, producer, Gary Trousdale, co-director, and Jeff Kurtti, author of several books focusing on the art of animation. Jeff will serve as the host for this year's event.
Kellogg®'s Cereal has a promotion with The Walt Disney Co., providing one of six (6) "Mini Atlantis Diving Subs" in speciality marked boxes of Frosted Flakes®, Rice Krispies®, Smacks®, Fruit Loops®, and Apple Jacks® (see an image below). Also, on speciality marked boxes of Kellogg's cereal, collect four (4) UPC symbols to receive a free CD-ROM of Disney's "Atlantis: The Lost Empire - Search for the Journal" Game. Finally, look for Kellogg®'s limited edition "Atlantis: The Lost Empire" cereal. Toasted oat cereal with chocolatey alphabet pieces that can spell"Atlantis" in your milk. Check out the official Kellogg®'s/Disney's "Atlantis: The Lost Empire" website at: http://www.atlantisadventure.com.
---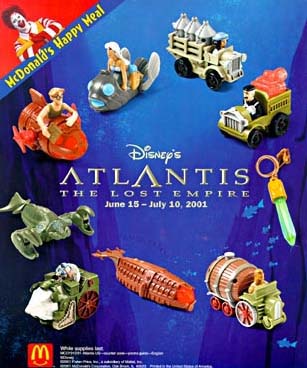 ---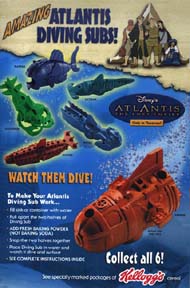 ---
Radio Disney's Atlantis At Last Sweepstakes. Listen to Radio Disney, June 1-15, and you could win an adventure on the high seas on Disney Cruise lines.
The soundtrack to "Atlantis: The Lost Empire" is now available as of May 22. Check out the Music section of the site for more information on the CD and how to purchase it.
If your Local Cable or Satellite Company provides you The Disney Channel, make sure to tune into "The Movie Surfers: Inside Disney's Atlantis" on June 10 at 12:00p/11:00C. If you miss it, you'll be able to see it again on June 12, at 5:00p/4:00C; June 14, at 8:30p/7:30C; June 15, at 1:30p/12:30C; and June 16, at 12:00p/11:00C.
Wednesday, June 13, 2001:
On Live with Regis and Kelly, Mya will be performing.
On The Rosie O'Donnell Show, Michael J. Fox will be a guest to promote the film.
The E! Channel will air a "Behind The Scenes" look at "Atlantis: The Lost Empire" this weekend. It premieres on June 9 at 2 p.m., and will air again on June 10 at 3 a.m. and June 11 at 3:30 a.m. They will go on location and you can see the ins and outs of the characters. Check your local cable listings for The E! Channel in your home town.
On ABC, Sunday, June 10, at 8:00pm P.T./E.T., a show called "Voyage to Atlantis: The Lost Empire" will be on, featuring a revealing look at dramatic new evidence in the search for the legendary lost world. Plus a sneak peek at Disney's all new animated feature, "Atlantis: The Lost Empire". The show is hosted by Tom Skerritt and Melissa Joan Hart.
E! Online put "Atlantis: The Lost Empire" on it's list of 5 films to avoid this summer. Hey, what do those idiots know, they put "Jay and Silent Bob Strike Back" on both their lists for 5 films to avoid this summer and 15 films to watch this summer. Make up your minds, morons!
Read an article from USA Today about "13 films that could get lucky" at the box office for (Summer 2001).
If your Local Cable or Satellite Company provides you The Disney Channel, make sure to tune into "The Movie Surfers: Inside Disney's Atlantis" on May 17 at 8:30p/7:30C. If you miss it, you'll be able to see it again on May 22, at 10:30p/9:30C.
Check out the Music section of the site for information on the "Atlantis" Soundtrack (out May 22, 2001) and a link to hear short Real Audio or Quicktime versions of all 18 songs from Disney Records.
Notes Found on Cinescape on August 13, 1999-"A prying fan managed to get Hellboy creator Mike Mignola to spill a bean or two on a secret project he was working on with Disney. "It's a film called Atlantis," Mignola revealed. "They approached me because they wanted to do the film in my style. Whether it's going to happen or not, I don't know." Explaining his role in the project, Mignola said, "I did some character designs for the city, for the natives, except most of it's been Disney-ized." To give his audience an idea of what this Atlantis project is all about, he explained that, "Most of [the story] takes place in a cave at the bottom of the ocean," while suggesting that one of the big wigs at Disney "hated the project because it was a straight action-adventure. No songs. Guys fight monsters underground. It's sort of a 1914/World War One-looking expedition to find Atlantis and rape it of its energy source. It's 20,000 Leagues Under The Sea meets Journey To The Center Of The Earth." A 60% completed work-in-progress version of Atlantis was screened for Disney bigwigs Peter Schnider and Tom Schumacher last April. Both Schnider and Schumacher gave the film a big thumbs up and were so impressed by what the production team had accomplished they approved three more sequences to go into production right away for the movie! The following was seen at the Walt Disney Animation Studio-Florida tour by an unknown source. "..On a video screen was a black-and-white pencilled background from an unidentified film. I'm not exactly sure, but it looked to me like an ancient Roman skyline. It had a columned building with a dome on top, and a tall Washington Monument kind of pillar and another building nearby. There was very little detail to it, but I'm pretty sure it was based on Rome, possible Greece. I thought this was odd, because I don't remember hearing about any such project. Any ideas as to what it was from?" As of October 1,1998, Atlantis looks to be a straigth adventure film with absolutely no songs. Producer Don Hahn and directors Kirk Wise and Gary Trousdale are melding traditional and digital animation technologies with Disney's rich tradition of storytelling to carry us into the mysterious world of Atlantis." It will be Disney's first 70 mm animated film since 1985's "The Black Cauldron". The images below are advance tests, not the finished product. This merely will give you a hint at the direction we are taking this. Imagine shafts of light diving into the water that this ship cuts into. (Some information from The Ultimate Disney Animation Archive.)
---
"As I work for Disney, I was able to watch a presentation on the film Atlantis, set for a 2001 release. The first act is complete (except for the monster chase after the sub is destroyed). It's an odd movie. The monster kills over 200 people, and a ship of Vikings die before the opening title. The classic hand drawn animation jumps against the heavy use of CGI, and the humor is aimed at an older kid crowd. The best line is when Mrs. Packard broadcasts to the crew, "Dinner is beans tonight, and with music to follow". Overall the film is interesting, and different from the recent Disney films. The story is locked in, although there is time to mess with details. One thing, the villian is weakly voiced by James Garder, and (I thought) the female villian was a real hoty! " Simon. (From Aint-It-Cool-News).